邹顺达先生为人耿直,好善乐施,对家乡的各项社会公益事业,他热心襄助,无私奉献,捐资近600万元。还泽及乡邻。在家乡大洋他捐资兴办学校等公益事业,无偿修通了西田乡岸洋村5公里的道路、大洋至丰顺县八乡镇14公里公路,为五经富、大洋等地捐款作为公益事业建设资金。邹顺达先生的善举义为,有口皆碑。
然而,正当邹先生雄心勃勃改写愚公移山故事的时候,他病倒了,最终医治无效,于2001年6月不幸逝世。听到他逝世的消息,大洋乡里人几乎都哭了。
邹顺达投资建设大洋并不求经济回报,他曾深情地对当地干部和乡亲说,投资大洋肯定是不会赚钱的,要赚钱我到外地去赚,为了乡亲们的利益,在大洋投资做亏本生意我是做定了。他生前亦多次表示,大洋是属于乡亲们的,他愿和乡亲们一道把大洋建成扬名世界的度假胜地。
2000年,邹顺达曾致函中国驻马来西亚大使馆,情深意切坦露赤子思乡情怀,在信中说,我是马来西亚国民,但我更是华夏炎黄子孙,家乡美好是我余生的愿望。我要把在国外经营几十年的经验带到家乡,引发乡亲们求富脱贫,我更要把在外几十年所赚的钱全部带回去建设家乡,让乡亲走上致富路。游子乡谊,感人腑肺。
他为揭阳市的经济和社会事业发展贡献殊多,功高德厚,义薄云天,深为乡梓敬仰。
为了纪念邹顺达先生,海内外的有识之士和大洋乡民众合力,在大洋旅游度假区修建了"顺达公园",揭西县人民政府专门为他铸造铜像,供游人瞻仰。
▲揭西县人民政府为邹顺达先生立的铜像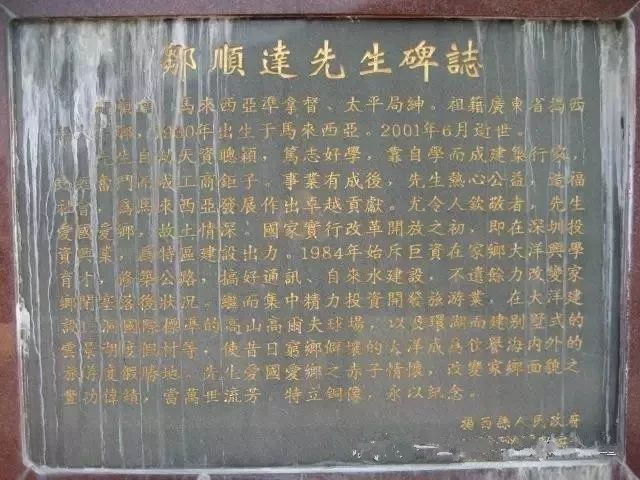 Mr. Zou Shunda is upright, kind and charitable. He enthusiastically supports various social welfare undertakings in his hometown and makes selfless dedication, donating nearly 6 million yuan. Also Ze and neighbors. In his hometown, Dayang, he donated funds to set up schools and other public welfare undertakings. He repaired 5 kilometers of roads in Anyang Village, Xitian Township, and 14 kilometers of roads from Dayang to Baxiang Town, Fengshun County, and donated funds for the construction of public welfare undertakings for Wujingfu and Dayang. Mr. Zou Shunda's charitable deeds are well-recognized.

However, just as Mr. Zou was ambitious to rewrite the story of Yugong Yishan, he fell ill, and eventually he was treated ineffective, and unfortunately passed away in June 2001. Hearing the news of his death, almost everyone in Dayang Township cried.

Zou Shunda's investment in Dayang does not seek economic returns. He once said affectionately to local officials and villagers that investing in Dayang will definitely not make money. To make money, I will make money in other places. For the benefit of the villagers, I will invest in Dayang at a loss. I'm done. He also stated many times during his lifetime that Dayang belongs to the folks, and he would like to work with them to build Dayang into a world-renowned resort.

In 2000, Zou Shunda sent a letter to the Chinese Embassy in Malaysia, expressing the feelings of homesickness for my son, and said in the letter that I am a Malaysian national, but I am also a descendant of China. A beautiful hometown is my wish for the rest of my life. I want to bring the experience of operating abroad for decades to my hometown, and trigger the villagers to seek wealth and get rid of poverty. I also want to bring back all the money I have earned for decades outside to build my hometown and let the villagers embark on the road to prosperity. Youzi Xiangyi, touching heart and lungs.

He has made great contributions to the economic and social development of Jieyang City.

In order to commemorate Mr. Zou Shunda, people of insight at home and abroad and the people of Dayang Township worked together to build the "Shunda Park" in the Dayang Tourism Resort. The People's Government of Jiexi County specially cast a bronze statue for him for visitors to admire.